Our Printable Personalized Photo, Album, Spotify Card
Here you can do it as Personalized Song Arcylic Plaque, Mothers day gift, Valentines day gift, Birthday Gift, Wedding Gift, Christmas Gift, Minimalist Home Decor.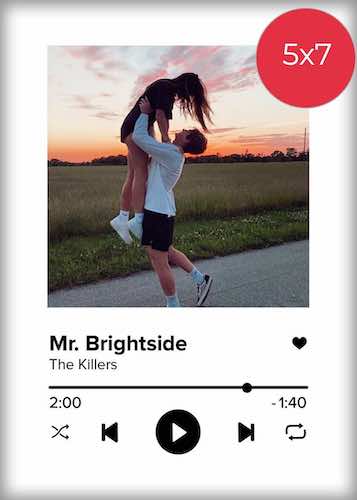 Quick Start For Free
About Spotify Card
♫ Customized Gifts - Click "Customized now " button, choose to upload your photo, song name and artist name. Providing all the details customized information. The Spotify code works! Point your phone at the code and the song will play(please note that the product itself will not play music, you need to scan it with your phone spotify to play the corresponding music!)
♫ Spotify Plaque - Personalized Music Card is made of high quality acrylic with fine workmanship and beautiful appearance. After receiving the product, please tear off the yellow protective film, after tearing off, the high-definition pattern can be displayed. 3 different colors for your choice: warm light, white light, colorful light
♫ Custom Spotify Plaque - Don't worry about pictures and text, we will choose the most suitable scale and font color for you, please rest assured, it is absolutely beautiful
♫ Spotify Glass Art - Spotify plaque lights are warm and soft without glare, suitable for your bedroom, living room, baby room, bar, cafe, club, etc. Always attract everyone's attention
♫ Custom Gifts - choose this personalized Spotify album cover for your family or friends. As the best gift for Valentine's Day, Christmas, birthday or any anniversary. Surprise him or her with this cute music cover!
How It Works
Edit your personalization:
Choose your personal photo or album cover;
Edit your favorite Song Name:
Edit the Artist Name:
Edit The minute you want to see in the time bar: (Left:? / Right:?)
Link to the song, Acrylic Song Plaque Couples Gift, a very special song for your special occasions;
This file is ready to print! You can download to preview it. That's it!
It is a suitable gift for: Anniversaries, Weddings, Valentine's days, Christmas, Thanksgiving, Mothers day, Fathers day, Birthdays, Friendship gifts, Couple gifts, Beloved Pets and for more unlimited and wonderful memories.
Place Card Sizes
Our place cards are approximately 2" high by 3.5" wide after cutting and (optionally) folding.
Sizes may vary slightly depending on the paper size and your printer's margins.
Supported Paper and Card Templates
Our templates are designed to be printed on a number of different paper types.
Printing
The cards can be printed right at home on most printers! Just make sure to do a test run before printing the whole batch.
Alternatively, you can take our files to Staples®, Office Max®, Office Depot® or any other local print shop and they should be able to take care of everything for you in minutes.
Get Your Custom Spotify Gift Card For Free
Add your personalization follow these steps : Please Enter:
Song Name: Midnight in Paris
Artist's Name: Any of your favorite names
Personal Photo or Album Cover: Please send via the sumbit form! https://example.com/your_photo_url.png
The minutes or Commemoration day you want to see in the time bar 11/30/22
Link to be connected to the song : https://open.spotify.com/track/2034O98KseYfXW4eETgm9h?si=68df8c5eebaf452b , You can send a track link of a song , we will create the code for you.
Special request (Optional text): ♪ Let's do it. Let's fall in love. ♪
If you have any questions or concerns about using our platform, please do not hesitate to ** contact us **