it's free, no registration required, no credit card required; Just try it now !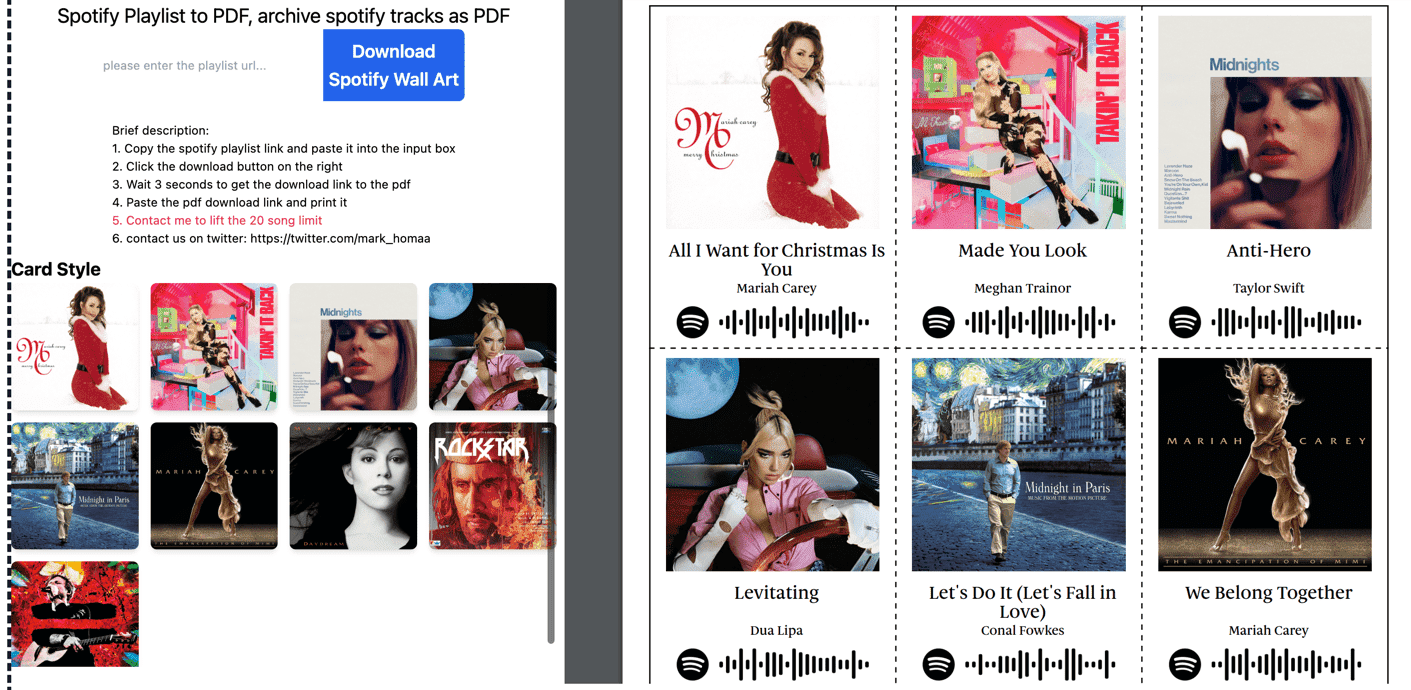 What is it
Custom photo acrylic song plaque, personalized photo night light with scannable acrylic song plaque, best gifts for music lovers, Valentine's Day & anniversaries!
Personalized Custom Music Song Print Poster Canvas Plaque | Custom Music Gift Poster Print , Song Plaque Custom , Music Poster Personalised
How to custom your spotify song art ?
Add your personalization follow these steps : Please Enter:
Song Name: Midnight in Paris
Artist's Name: Any of your favorite names
Personal Photo or Album Cover: Please send via the sumbit form! https://example.com/your_photo_url.png
The minutes or Commemoration day you want to see in the time bar 11/30/22
Link to be connected to the song : https://open.spotify.com/track/2034O98KseYfXW4eETgm9h?si=68df8c5eebaf452b , You can send a track link of a song , we will create the code for you.
Special request (Optional text): ♪ Let's do it. Let's fall in love. ♪
The picture came out so beautiful and the personalization for music title is an amazing detail. I loved that you can even choose what "time" the song is at (I put mine on a specific time stamp where that part of the song reminds me of my friend). Absolutely stunning, 10/10
FAQ
1. How to getting song link from spotify ?
you should follow these steps:
find your desired content on spotify, such as song, playlist,artist...
click on the "..."
click on the share
click on the "copy song link"

2. How much does this cost?
ShareGiftList is completely free to use, though there is a cost to upgrade to our premium packages and templates.
3. Can I use my own design or change other parts of the template?
You can upload your own design by using our upload feature in the card maker. If you'd like to change other aspects of the template, don't hesitate to contact me and I'll see if I can help!
4. My PDF file is blank! Please help!
This problem is usually easily resolved by using the "Rebuild PDF" link on the download page.
5. Is this site secure? How do you process my credit card?
Yes, this site is completely secured using the latest in web standards and encryption technology.
All payments are handled by a third-party service called Paddle, which powers payments for some of the largest online services in the world.
We never see or store your credit card information.
6. What are the terms of using this site?
Please see our terms and privacy policy.
7. My question is not answered here. How do I get in touch?
You can send us a mail at [email protected]. Other contact options are listed on our Contact Page .
8. What can I get?
When you submit customized requests, we will send you a digital version of the pdf file via email within 24 hours, which is completely free and does not require a credit card; If you need a photos frame, you can purchase it through the following channels